9 states ban cellphone use while driving. Is yours on the list?
Nine states plus the District of Colombia now ban the use of a cellphone by adults while driving. But in some states, police must have another reason to stop drivers before citing them for using a cellphone. Many more states restrict or prohibit the use of cellphones by teenagers.
Some cities have moved on the issue without the state legislatures. For example, Chicago, Detroit, and Oahu, Hawaii, have cellphone and driving bans now, according to the Insurance Institute for Highway Safety.
Text messaging while driving is specifically banned now in 30 states.
Where can't you use a cellphone? Check out the list and the kind of restrictions.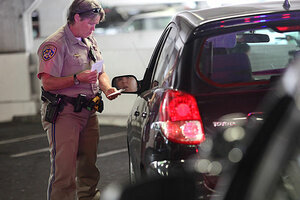 Newscom
1.

California

Drivers in California can be pulled over for hand-held cellphone use.

School and transit bus drivers are banned from using any cell phone – hands-free or not.

Drivers under 18 face a $20 fine for hands-free cell phone use if it is detected during a traffic stop for another offense. A bill is pending in the California legislature that would increase the first offense fine to $50.

Texting is prohibited for all drivers.