How Victor Perez saved abducted girl: four tales of everyday heroes
California Gov. Arnold Schwarzenegger on Thursday honored Victor Perez, the man behind the improbable car chase that resulted in the recovery of an 8-year-old girl abducted in Fresno, Calif. 'This guy is a true action hero,' said the governor. Here is his story and the stories of three other everyday heroes who responded to trying circumstances with extraordinary grace or courage.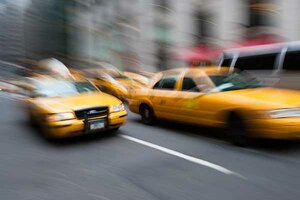 Newscom/File
1.

Kashmir Singh, the 'humble hero'

When a couple visiting New York City from Switzerland left an iPhone, an iPod, $700 in cash, and crucial Swiss documents in the back of a cab last month, they were not expecting ever to see them again. But Queens cab driver Kashmir Singh returned the bag filled with IDs and money, crucial for their return home.

"The mere fact that this man took it upon himself to personally return the purse showed great human spirit," Swiss software engineer Daniel Hasler told the New York Daily News.

Mr. Singh noticed the bag in his car and drove back from Kennedy Airport to Blue Porch Bed and Breakfast in Brooklyn's Ditmas Park, where the couple was staying.

Mr. Hasler's Chilean wife, Valeria Zapata, would not have been able to get home without her Swiss residency card, he explained. The couple's bag also contained a $500 camera and credit cards.

The couple was so worried about the loss of Ms. Zapata's ID card that they called the Swiss Consulate, but Singh, "the humble hero," stepped in, said Hasler.

Singh told the Daily News: "It's just my nature," when asked about returning the bag. "I'm a typical New York guy, and these people were tourists. I want them to think well of New York."