Who were the previous 10 Nobel Peace Prize winners?
Imprisoned Chinese dissident Liu Xiaobo won the 2010 Nobel Peace Prize Friday for his long and nonviolent struggle for human rights in his country. Here is a list of the past 10 Nobel Peace Prize winners and why the committee chose them.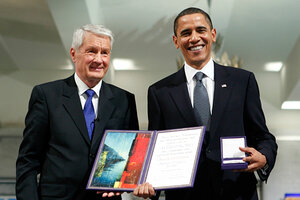 Bjorn Sigurdson/Reuters/file
2009: Barack Obama

The American president was a surprise pick for the prize, which he was awarded "for his extraordinary efforts to strengthen international diplomacy and cooperation between peoples," the committee said.