ALCS Game 5: New York sends Rangers-Yankees series back to Texas
ALCS Game 5 was must-win for New York, and it did, 7-2. The Rangers-Yankees series returns to Texas Friday with the Rangers seeking their first World Series berth.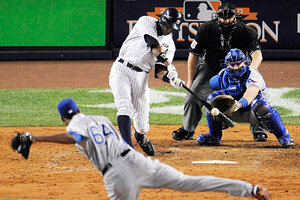 Bill Kostroun/Reuters
The Texas Rangers will have to put off any whooping and hollering over a trip to the World Series.
The Yankees showed on Wednesday that they can still pitch and hit, beating the Texas Rangers, 7-2, in the Bronx.
Heading back to Texas means one of Texas' new owners, the former strikeout king Nolan Ryan, has to hold off hold off on any Texas-sized celebrations about getting into a World Series, something the Rangers franchise not done in its history.
The TV networks are surely hoping the Yankees win at least one more game to set up a dramatic winner-take-all match on Saturday night. The networks would have no trouble finding a story line: On the mound for Texas would be Cliff Lee, who struck out 13 Yankee batters on Monday night. In the batter's boxes will be Robinson Cano and Josh Hamilton, either of whom could be the American League MVP this year.
What if the series goes seven games? Texas manager Ron Washington said: "Well, I'm not thinking that far. But it's nice to know I have Lee if it does."
Before that happens, Texas right handed pitcher Colby Lewis will have to face a Yankee squad that is feeling better about itself.
Yankee manager Joe Girardi said he saw a new determination in his team on Wednesday.
"We had not played extremely well, to say the least," said Girardi. "But you saw the determination even in batting practice, the mood was very businesslike and the guys went out and did it."
Yankee centerfielder Curtis Granderson said it wasn't all about the Yankees playing badly. "You have to give credit to Texas and how well they have pitched and been able to hit and play defense."
Yankee catcher Jorge Posada said some of the improvement is from playing Texas five games consecutively. "You see the adjustments the other player is trying to do," he said. "The biggest thing is location [of the pitches] and then changing speeds," he said. "We have not been able to do that."
But on Wednesday afternoon, Texas had its own problems.
Left-handed pitcher C.J. Wilson, who led the American League in walks during the regular season, put two men on board. Then, the Bronx Bombers got on the board with two consecutive singles. Two bungled throws by the Rangers didn't hurt New York.
"C.J., in the second inning, he couldn't throw the ball over the plate," said Washington.
Then, in the third, the Yankees' bats boomed with back-to-back home runs by Nick Swisher and Robinson Cano.
"In the third inning he started throwing strikes, started putting them in the wrong place and they made you pay for that," said the Texas manager.
On the pitching front, Sabathia certainly did not turn in a Cliff Lee-type of performance. He gave up 11 hits, including one home run. In the sixth inning, Texas loaded the bases on three consecutive singles but could only muster one run.
"We had Sabathia bending, he didn't break," said Washington.
By the seventh inning, the Yankee bullpen had taken over for Sabathia. Unlike prior nights when the bullpen imploded, it did not give up any runs.
On Tuesday night, Girardi had a heart-to-heart with his players. His message, he says, was that the team had won three games in a row before.
"We are a talented club, just go out and play your game, be aggressive and do what you do," he says. "And that will be our approach on Friday."