Yemen packages: what is known so far about 'credible terrorist threat'
Obama, appearing at the White House, says Yemen packages bound for synagogues in Chicago contained explosives. Suspicion falls on Al Qaeda in the Arabian Peninsula.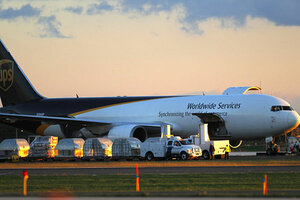 Tim Shaffer/Reuters
President Obama confirmed in a White House appearance Friday afternoon that two packages bound from Yemen to the United States and examined in two separate overseas airports contained "explosive materials" and constituted a "credible terrorist threat."
While the president and administration officials stopped short of calling the packages "bombs," Mr. Obama's assistant for homeland security and counter-terrorism, John Brennan, said the two packages were "designed to try to carry out some type of attack."
The packages, which officials said were addressed to two unspecified synagogues in the Chicago area, "intended to do harm," Mr. Brennan added. Initial reports had said at least one of the packages tested negative for explosives.
The 8 worst countries on Transparency International's list
Both Obama and Brennan stopped short of fingering a responsible party for the foiled threat, but their references to Al Qaeda in the Arabian Peninsula made clear where their suspicions – if not assumptions – lie.
"Although we are still pursuing all the facts, we do know that the packages originated in Yemen," Obama said in his statement in the White House press room. "We also know," he added, "that Al Qaeda in the Arabian Peninsula, a terrorist group based in Yemen, continues to plan attacks against our homeland, our citizens, and our friends and allies."
The two packages – one stopped and examined in Britain, the other in Dubai – were the centerpieces of a day-long international terror alert and investigation that by day's end Friday allowed for several salient observations about the international counterterrorism effort:
The evidence suggests that Al Qaeda-associated terror groups are still trying to figure out how to use commercial aircraft to carry out terrorist acts against the US.
The fact, as revealed by Brennan, that Obama was informed about a credible terrorist threat involving packages from Yemen even before the packages were located and stopped indicates that information about the plot may have come from a source within the organization that hatched the plan.
The rapidity with which the threat was detected and the long list of domestic and foreign intelligence and counterterrorism agencies that were involved in addressing it suggests the degree of progress that the US and other governments have made toward foiling threats and addressing the international terrorist challenge.
Saying the US has "developed a robust security system," Brennan said "redundant layers of security" in an international system allowed for the day's "success," and he added: "The American people should be very pleased that we were able to get insight into the fact that there were suspicious packages out there that we had to find."
One apparent source of information was Saudi Arabia. Friday evening Brennan issued a statement lauding Saudi Arabia for its role in unraveling the plot. "The United States is grateful to the Kingdom of Saudi Arabia for their assistance in developing information that helped underscore the imminence of the threat emanating from Yemen," Brennan said. "Their assistance, along with the hard work of the US counterterrorism community, the United Kingdom, the UAE, and other friends and partners helped make it possible to increase our vigilance and identify the suspicious packages in Dubai and East Midlands Airport" near Nottingham, England.
But Brennan's earlier reference to "insight," plus a timeline of events that point to some source of inside information about the terror plot, suggest to some counterterrorism experts that either US intelligence or an associated intelligence agency has penetrated Al Qaeda in the Arabian Peninsula.
"What we know so far suggests to me that someone on the inside gave us some critical information to allow us to set a number of wheels in motion and get at this thing fast," says Patrick Lang, a former Middle East analyst with the Defense Intelligence Agency who was also the US defense attaché to Yemen in the early 1980s.
That information could have come from Saudi Arabia, but Mr. Lang says he would not be surprised if Yemen has an inside source in a dispersed organization that is thought to include several hundred individuals. "The idea that the Yemeni intelligence service could have achieved a penetration is not unbelievable at all," he says.
White House officials say they have been in close communication with Yemeni President Ali Abdullah Saleh and other Yemeni officials throughout the day.
Lang says that despite Yemen's image as an unstable and in parts lawless country, "they have a very good intelligence service, and Saleh is on top of a developed and knowledgeable security apparatus."