Ideas for a better world in 2011
In many ways, 2010 is a year you may want to relegate to the filing cabinet quickly. It began with a massive earthquake in Haiti and wound down with North Korea once again being an enfant terrible – bizarrely trying to conduct diplomacy through brinkmanship.
In between came Toyota recalls and egg scares, pat downs at airports and unyielding unemployment numbers, too little money in the Irish treasury and too many bedbugs in American sheets. Oil gushed from the floor of the Gulf of Mexico for three months, mocking the best intentions of man and technology to stop it, while ash from a volcano in Iceland darkened Europe temporarily as much as its balance sheets.
Yet not all was gloomy. The winter Olympics in Canada and the World Cup in South Africa dazzled with their displays of athletic prowess and national pride, becoming hearths around which the world gathered. In Switzerland, the world's largest atom smasher hurled two protons into each other at unfathomable speeds. Then came the year's most poignant moment – the heroic and improbable rescue of 33 miners from the clutches of the Chilean earth.
There were many transitions, too – the return of the Republicans in Washington and the Tories in Britain, the scaling back of one war (Iraq) and the escalation of another (Afghanistan), the fall of some powers (Greece) and rise of others (China, Germany, Lady Gaga).
To get the new year off to the right start, we decided to ask various thinkers for one idea each to make the world a better place in 2011. We plumbed poets and political figures, physicists and financiers, theologians and novelists. Some of the ideas are provocative, others quixotic. Some you will agree with, others you won't. But in the modest quest to stir a discussion – from academic salons to living rooms to government corridors – we offer these 25 ideas.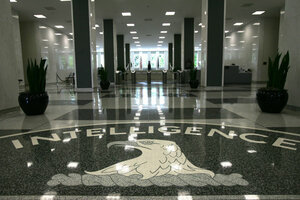 Dennis Brack/Newscom
Rolf Mowatt-Larssen

ROLF MOWATT-LARSSEN, former top CIA counterterrorism expert on weapons of mass destruction, now a lecturer at Harvard University
Idea: A CIA for the world
Weapons of mass destruction, terrorism, nuclear proliferation, organized crime, people smuggling, cyberattacks, climate change. These conflicts girdle the globe and cannot be solved by one nation. They must be addressed collectively. What's needed, says Mr. Mowatt-Larssen, is a sort of global CIA or Russian FSB but without the clandestine shenanigans – something to analyze and understand what's happening at a deeper level. He calls for the formation of a "global intelligence institution, conceived and built to the specifications of today's and tomorrow's problems."
The idea isn't to usurp the CIA, but to build a modest-sized international organization that will share its findings on contemporary and common threats. He says, for instance, major "gaps" in understanding remain over the 18 known cases of the smuggling of nuclear materials. A new global agency could focus on the criminal or other networks involved. Such a unit, he suggests, might be located under the auspices of the United Nations or perhaps the International Atomic Energy Agency.
"Rapid information sharing; far less secrecy; a devaluation of the role of espionage in favor of confidential sources who see themselves helping the world, not working against individual countries, is what we need," he says. "There has to be recognition that if you give this organization information, it will go to the US, but then you're also going to give it to Iran or the Libyans or whoever you don't like, too."