Gallup poll: Top 5 men and women admired by Americans
Gallup released its annual "Most Admired" poll Monday. Since the organization started surveying people about this in 1946, sitting presidents have held the No. 1 spot for men 52 times. How did President Obama fare in the 2010 ranking? Read on to learn who earned the Top 5 spots for both men and women in the Gallup poll.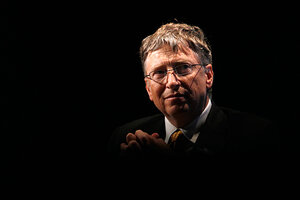 Kevin Lamarque/Reuters
5.

Bill Gates and Condoleezza Rice

The Microsoft chairman and former secretary of State each got 2 percent of the vote in the Gallup survey. This is the same spot that Ms. Rice held last year, and it's a slight move up for Mr. Gates, who held the seventh-place spot for men last year.

Rice was followed in the rankings by Queen Elizabeth II (making her 43rd appearance in the Top 10 – a record), Angelina Jolie, Margaret Thatcher, and a tie among Aung San Suu Kyi, Laura Bush, and Barbara Bush. Gates finished just ahead of a wide-ranging group of men made up of Pope Benedict XVI, Billy Graham, Jimmy Carter, Glenn Beck, and the Dalai Lama.

Off the list after being in the Top 10 last year: John McCain, George H.W. Bush, and Tiger Woods.