Blizzard 2010: What are Top 5 snow storms of the decade?
The Christmas storm of 2010, which dropped 31 inches of snow on some parts of New England and crippled New York City, will likely stand out as a memory-maker, something to tell the grandkids about – especially if you got stuck in the national air traffic snarl or localized mayhem in New York, where police cars got stuck in drifts and New Yorkers yelled at the mayor for failing to keep the streets clear. But the past decade – the snowiest since the 1970s – had several other memorable winter storms. Here's the five that got the most attention – and did the most damage.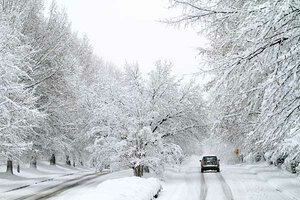 Jim R. Bounds/AP
1.

January 25, 2000: Surprise snow storm shuts down Raleigh

January 25, 2000, began like a normal, but cold, day in Raleigh, N.C. In a city – like most – obsessed with the weather, there had been a winter storm watch for up to 5 inches issued the night before, but the weather system didn't even rank as a "one-loaf" event from forecasters (meaning no need to rush out to get milk and bread).

But in the mid-afternoon, a dark, blue-gray front of clouds built up to the west. Within hours, the snow came – and came and came. A day later, Raleigh – which gets an average of 7 inches of snow a year – lay buried under two feet of heavy powder, grinding the city to a halt.

With most of its snowclearing assets amassed in the mountains, the state took over a week to dig the city out. The sudden storm went on to bury Washington, sparking snowball fights between White House staffers and cancelling a global warming conference in the process.