Arizona shooting suspect Jared Loughner: 5 of his strange ideas
Jared Lee Loughner is accused of killing six people and wounding 14 in Tucson, Ariz., on Saturday. The apparent target of the attack was Rep. Gabrielle Giffords (D), which led Pima County Sheriff Clarence Dupnik to assert that unbalanced people are 'especially susceptible to vitriol' in our political discourse.
Politics may be nasty, but Jared Lee Loughner's ideas don't seem to line up with any one group or line of thinking. Indeed, they are more often characterized as simply strange. Here's a look at five ideas believed to come from Loughner, in his words and those of the people who know him.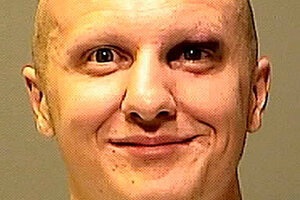 Pima County Sheriff's Dept./The Arizona Republic/AP
1. Grammar is a form of mind control.

"The government is implying [sic] mind control and brainwash on the people by controlling grammar," an individual widely thought to be Loughner writes in a Youtube video.

This idea is similar to one championed by far-right activist David Wynn Miller, according to Mark Potok of the Southern Poverty Law Center, who studies extremists groups. Mr. Miller "believes in a 'truth language' that can throw off the government," Mr. Potok told Newsweek. "If you use the right combination of colons and hyphens you don't have to pay taxes."

The author of the Youtube writings is not clear on how the government manages to control people through language, as he does not linger on any one topic long enough to explain it. While he writes that language helps control people, he does encourage literacy.

"The majority of people, who reside In District-8, are illiterate – hilarious. I don't control your English structure, but you control your English grammar structure."

Loughner would be wrong about that, of course. An estimated 11 percent of Pima County residents are "lacking Basic prose literacy skills," according to a 2003 survey by the National Center for Education Statistics. This included people who spoke languages other than English and thus were not able to take an English literacy test.