Martin Luther King Day: 10 memorable MLK quotes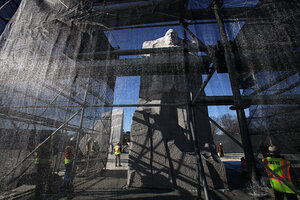 Jacquelyn Martin/AP
1.

'Hate cannot drive out hate'

'Returning violence for violence multiplies violence, adding deeper darkness to a night already devoid of stars.... Hate cannot drive out hate: only love can do that.' –Where Do We Go from Here: Chaos or Community

At the height of his career, the Rev. Dr. Martin Luther King gave 450 speeches and traveled more than 325,000 miles per year. All told, his speeches and writings fill hundreds of pages, but it's not all unique material. Throughout his career, Dr. King often reused lines in his speeches, including this one, which popped up in several places throughout the mid to late 1960s.