Mafia arrests: Four of the most famous mob busts in history
The FBI announced the biggest anti-Mafia operation in its history Thursday. In all, 127 people allegedly linked to the mob were arrested. Here are the stories of four of the biggest mobsters ever arrested.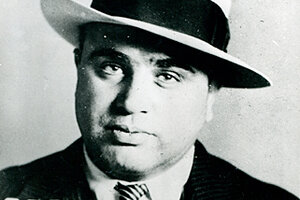 Newscom/File
Al Capone (1899-1947)

Al Capone was brought down not for murder nor for organizing the St. Valentine's Day Massacre. In 1931, Capone was sentenced to 10 years in prison for something less associated with violent criminal masterminds: tax evasion. Capone had never filed an income tax return, and investigators found proof that he received millions in income from illegal activities.

Capone began serving time in the Atlanta U.S. Penitentiary in 1932. It was known as one of the toughest prisons in the country, and Capone spent his time cobbling shoes. In 1934 he was transferred to Alcatraz, where he was cut off from contact with the outside world. At Alcatraz, Capone's health declined due to complications from syphilis, which he had contracted as a youth. He spent his last year at Alcatraz in the prison hospital, before being transferred to the Federal Correctional Institution at Terminal Island, Calif. to serve a one-year misdemeanor sentence. When freed in 1939, Capone had little power within organized crime. His physical and mental health continued to decline, until he died in 1947.