Eight ways $100 a barrel oil may affect you
In recent weeks, the price of a barrel of oil has stayed at about $100 a barrel, and gasoline prices have been edging closer to $4 a gallon. The costs are apparently due to events half a world away, in the Middle East. Even though plenty of oil is around, there is fear of further disruptions, and consumers, business people, and politicians have all been making adjustments. Here are eight ways that higher energy prices are starting to affect America.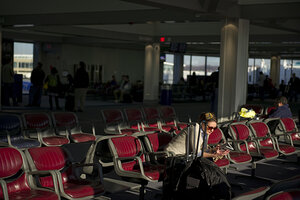 Ann Hermes/Staff
1.

Airplane travel: More costly, yes, but also crowded

If you're at a computer trying to make plane reservations for the summer, you had better hold on to your seat: The prices might make you hit the ceiling.

Airlines have hiked fares six times since the beginning of the year because of the soaring price of jet fuel, says Rick Seaney, CEO of FareCompare.com.

Anyone flying to Europe this summer can expect to pay $1,400 to $1,800 round trip for a coach ticket. That cost includes about $400 for a fuel surcharge and another $120 in taxes and fees.

"Historically, it is not unusual to see summer travel for a ticket over $1,000, but I've never seen in a decade prices in the $1,400-to-$1,500 range and higher on certain days," says Mr. Seaney.

Domestic flights won't be much better. Airlines have tacked on about $60 in fuel adjustments since January, Seaney estimates. According to his site in mid-March, a July round-trip flight from New York to Los Angeles is almost $600, up from an average of $333 last July.

Over the past year, the price of jet fuel has gone up by about $1 a gallon. For American Airlines, the added cost over the past year is about $2.5 billion, according to Edward Martelle, a spokesman in Dallas.

Another ramification of the rising fuel prices: Flights will remain crowded. Some airlines are reducing their number of flights because they can't recoup rising costs fast enough. American Airlines, Mr. Martelle says, had planned to add 3.4 percent more flights to its system this year. Now, it will add only 3 percent.