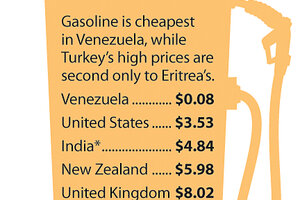 Rich Clabaugh/Staff
2.

Driving: Staying local – and scrimping upon arrival

On long weekends, Maggie and Anthony Chisum usually pack up their Jeep Grand Cherokee in Tustin, Calif., and visit relatives in Bullhead City, Ariz. But this Memorial Day, the couple may not make the 4-1/2-hour drive. With gasoline at close to $4 a gallon where they live, it costs almost $80 to tank up their vehicle.

"It's a big, expensive week-end just to visit family," says Ms. Chisum. "We're probably just going to do something locally."

The Chisums' decision to cut down on their driving shows how higher gas prices are starting to create subtle shifts in consumer behavior.

"It's one of the hidden impacts – someone not visiting relatives, or not driving to the mall or combining trips," says John Silvia, chief economist at Wells Fargo Securities in Charlotte, N.C.

The price at the pump is one of those economic events that most people notice. At Ms. Chisum's last fill-up, for example, she knows she paid $3.91 a gallon. At the least, almost every driver knows if he or she is getting fewer gallons for a $20 bill.

The rising prices can change daily behavior. For example, consumers tend to top off their tanks more frequently if they think the price will go up soon. Also, many motorists will search for the gas station with the lowest prices in their area.

"People will do more to save a penny a gallon as the price is rising," says Jeff Lenard, a vice president at the National Association of Convenience Stores in Alexandria, Va. "I know; I do it myself."

While higher fuel prices may not stop many families from taking a trip this summer, they may scrimp when they arrive at their destination, says Troy Green, a spokesman for the AAA.

"They might stay at a cheaper hotel or use cheaper restaurants," he says. "Or, instead of driving from New York to Washington, D.C., they might go to Philadelphia instead."

When gasoline prices hit $4 a gallon in 2008, many resorts awarded travelers gas cards to defray costs. That's already starting to happen again. For example, in Carlsbad, Calif., the West Inn & Suites, a boutique hotel, is giving travelers an "On the Road Again" package that includes a $25 gift card for the inn's own gas station.