Carmageddon? Please! Four of the world's worst traffic jams.
The 10-mile shutdown of Interstate 405 this weekend in Southern California is being called 'carmageddon.' Will Los Angeles set the new world record for worst traffic jam? Here are four of the worst traffic jams worldwide.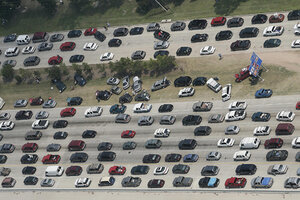 Ralph Lauer/Fort Worth Star-Telegram/AP/File
1.

Houston (2005)

In an effort to flee the wrath of Hurricane Rita, an estimated 2.5 million Texans evacuated Houston in September 2005, just more than a month after hurricane Katrina devastated the Gulf Coast. The evacuation rush caused a 100-mile-long traffic jam.

Houston Mayor Bill White said he did not expect the magnitude of people evacuating and did not devise an evacuation plan to accommodate the numbers, according to a New York Times report.