Hurricane watch from Surf City, N.C., to Virginia, as Irene expands reach
Coastal residents from Surf City, N.C., to the Virginia border should be ready for hurricane conditions within 48 hours, forecasters said Thursday morning. Irene is still a Category 3 hurricane, but it has broadened.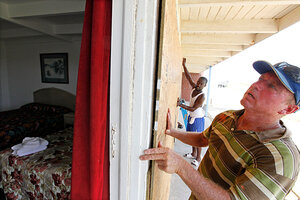 Charles Dharapak/AP
A hurricane watch is in effect for a stretch of the North Carolina coast, and a tropical storm watch is on for most of South Carolina's coastline, National Hurricane Center forecasters said Thursday morning, as hurricane Irene continued to spiral up through the Bahamas.
The tropical-storm watch includes the coast from Edisto Beach, S.C., to Surf City, N.C. From Surf City north to the North Carolina-Virginia border, the coast is under a hurricane watch.
A tropical storm watch means that residents in the watch areas should expect tropical-storm conditions within 48 hours. A hurricane watch carries the same expectation for tropical-storm conditions, but adds the possibility of hurricane conditions appearing as well.
As of 11 a.m. Eastern Daylight Time, Irene was pounding the central Bahamas with maximum sustained winds of 115 miles per hour, giving Irene Category 3 status. The most powerful storms are rated as Category 5.
Irene's intensity has changed little since Wednesday, but its reach has grown. Hurricane-force winds now extend up to 70 miles from the center, compared with 50 miles Wednesday. Tropical-storm-force winds now reach as far as 290 miles from the storm's center, versus 205 miles on Wednesday.
Over the past day, Irene's track forecast after leaving the North Carolina coast for the northeastern US has shifted slightly west. The track, which still carries large uncertainties so far in advance, brings the center of the storm ashore on Long Island near Hempstead, N.Y.
Once Irene crosses a narrow reach of Long Island Sound, the storm is forecast to track generally north northeast through western Connecticut and western Massachusetts into Vermont and eastern Quebec.
Although forecasters held out some expectation that Irene could strengthen to a Category 4 storm, at least briefly, en route to North Carolina's outer banks, the current outlook keeps the storm in the Category 3 range, with maximum sustained winds of 111 to 130 m.p.h. Forecasters caution that storms of this magnitude will deliver "devastating damage."
Evacuation orders are being implemented along the North Carolina coast, and they may be required for additional stretches of coastline to the north because of the changes to Irene's forecast track, according to Craig Fugate, who heads the Federal Emergency Management Agency.
Heeding those orders not only can save the lives of evacuees, he notes, but also can safeguard the lives of rescue crews who otherwise might be sent out because conditions are too dangerous to effect a rescue.
During a briefing Thursday, Mr. Fugate recalled overhearing poignant 911 calls during hurricane Ivan in 2004, when he was still head of Florida's Division of Emergency Management. People either tried to ride out the storm or waited too long to leave in hopes of a favorable change in the forecast.
"The roads are cut off, they are not passable, we have almost hurricane-force winds, the water's coming up, and they're calling 911 begging to be saved. And nobody can get to them," he said. Or, under other conditions, "we have to put responders in harm's way while the storm is still active, trying to get to people."
The take-home message: If a home survived the last storm unscathed, it's unwise to expect the same results with a new storm.
If evacuations could be limited "only to the folks who we actually knew would flood, we'd do it," he says. But the forecasting tools aren't up to that task, so broad areas must undergo evacuation, he says.
After Irene clears North Carolina, it's expected to gradually weaken as it encounters colder sea water, disruptive wind shear at high altitudes, and the coast itself. The current path forecast puts up to half of the storm's expanse over land as it heads toward its final landfall.
With Irene's nudge to the west, bringing it closer to the coast when it leaves North Carolina in its wake, the risk of inland flooding has increased along the mid-Atlantic states and into New England. Many places could see rainfall ranging from 5 to 10 inches, according to National Hurricane Center Director Bill Read.
If the current track holds, the storm's girth makes inland flooding "a virtual certainty," he says. Tropical-storm-force winds, with gusts of hurricane strength, are likely to last for hours in coastal regions.
Residents inland are being asked to prepare for flooding and widespread power outages.
In addition to Fort Bragg in North Carolina, FEMA is also stagging supplies for regional use at Westover Air Force Base in western Massachusetts and McGuire Air Force Base in New Jersey. The supplies range form industrial-grade generators and bottled water to food and medical goods.
Meanwhile, forecasters are now tracking tropical depression 10 – a storm system just short of earning a name – located in the central tropical Atlantic.