Why Obama administration's Fast and Furious troubles may not be over
In the Fast and Furious operation, ATF agents lost track of as many as 2,500 high-powered firearms. Acting Director Kenneth Melson has stepped down, but a congressional investigation will continue.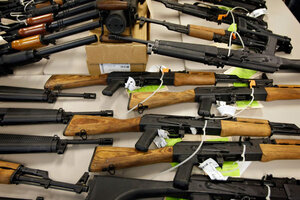 Matt York/AP
The ill-fated Fast and Furious operation that ended up putting thousands of loose guns onto both sides of the US-Mexico border has claimed a big fish.
The acting director of the Bureau of Alcohol, Tobacco, Firearms and Explosives – who oversaw implementation of Fast and Furious out of ATF's Phoenix office in 2009 – has stepped down and will be reassigned, the Justice Department announced Tuesday.
Kenneth Melson, who was named ATF's acting director in 2009, will move out of ATF to become a senior adviser on forensic science in the Justice Department's Office of Legal Policy. Replacing him as ATF's acting director will be B. Todd Jones, the US attorney for the District of Minnesota.
The US attorney in Arizona, Dennis Burke, whose office was heavily involved in the Fast and Furious operation, is also stepping down, the Justice Department said.
The ATF has not had a permanent director since 2006, a fact that offers one measure of the touchy nature of the bureau's role in gun ownership and regulation. President Obama has nominated the head of ATF's Chicago office, Andrew Traver, to take the job, but strong opposition from the National Rifle Association has stalled his confirmation.
It was Fast and Furious that most recently put ATF in the headlines. The undercover operation was designed to nab gun smugglers taking US firearms into Mexico and to the country's violent drug cartels. But instead, bureau agents lost track of as many as 2,500 high-powered firearms, some of which later turned up at crime scenes on both sides of the border.
Two of the weapons were found at the scene of a US Border Patrol agent's murder last year.
The reshuffle in ATF personnel seems unlikely to end the controversy over Fast and Furious. US Rep. Darrell Issa (R) of California, who heads the House Oversight Committee that has been investigating the botched operation, said in his Twitter feed Tuesday, "We won't let blame for reckless Fast and Furious be shifted onto these few."
Representative Issa contends that the Obama administration is blaming Mr. Melson and other ATF and Justice officials for a scandal that he says reaches much higher into the Obama team.
Despite the black eye that Fast and Furious has given the ATF and anti-gun-trafficking efforts more generally, experts in US-Mexico border issues say that undercover operations and in-depth investigations will be necessary if gunrunning is to be brought under control.
Mexican officials continue to loudly criticize the United States for not stanching the flow of weapons southward, but they also lambasted the US over the well-intentioned but poorly executed Fast and Furious operation.
Just last week, Mexican President Felipe Calderón again blasted US gun dealers and lax firearms regulations for the part they play in arming Mexico's drug gangs. Mr. Calderón said the gun connection and profits from US drug sales made the US partly to blame for the drug-gang firebombing of a casino in Monterrey Thursday, which left at least 52 people dead.