Death penalty's top 5: Which US states have the most executions?
It's not often that the US Supreme Court stays an execution, as it did late Thursday in the case of convicted murderer Duane Buck. But the justices routinely consider such requests, given that 34 states permit capital punishment. Since 1999, when a record 99 inmates were put to death, the number of executions has dropped slightly, according to the Death Penalty Information Center, which opposes capital punishment.
Can you guess which five states had the most executions over the past four years?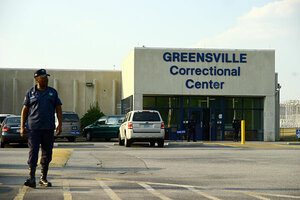 Edouard Guihaire/AFP/Newscom/File
5.

Virginia

Virginia did not execute anyone in 2007, but it has carried out the death penalty 10 times since then. Death-row inmates may choose between lethal injection and electrocution, which two people have opted for in recent years.

The state executed six black men, three white men, and one white woman. One was John Allen Muhammad, the "D.C. sniper" who was found responsible for the shooting deaths of 10 victims within the Washington Beltway over a three-week period in 2002.