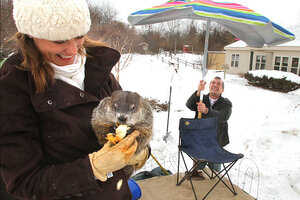 Alan Ward/Livingston County Daily Press & Argus/AP/File
2.

Who is Phil's competition?

If Phil's not your go-to groundhog Thursday, you have plenty of other options because Punxsutawney's not the only city with a dog (or groundhog) in this fight.

Over the years, other prognosticating groundhogs have popped up, primarily throughout the eastern half of North America to claim a piece of the day's weather-predicting pie. Among them include:

• General Beauregard Lee in Lilburn, Ga.

• Wiarton Willie, an albino Canadian groundhog in Bruce County, Ontario

• Sir Walter Wally in Raleigh, N.C.

• Holland Huckleberry in Holland, Ohio

• Shubenacadie Sam in Shubenacadie, Nova Scotia

• Chuck Wood in Stickney, Ill.