Presidents' Day: five facts you didn't know about George Washington
Although today has culturally morphed into Presidents' Day over the years, the official holiday is George Washington's birthday -- even though Washington was born on February 22. Originally meant to celebrate the legacy of the 'Father of our Country,' Washington's birthday was the first federal holiday selected to honor an American citizen in 1879. Here are five little-known facts about the original founding father.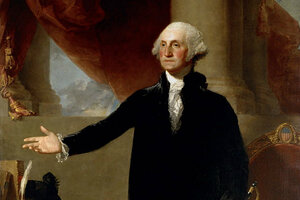 AP Photo/File
1.

His teeth were not made of wood

Arguably the most famous myth about the first president is hardly true. Washington indeed had false teeth. In fact, by the time of his first inauguration, he had only one real tooth left, but his dentures were not made of wood. At various times throughout his life, he wore dentures made of human teeth, ivory, and lead. In one set of teeth, his dentist, Dr. John Greenwood, used a cow's tooth, one of Washington's teeth, hippopotamus ivory, metal and springs. Because of their poor fit, his various dentures distorted the shape of his mouth, and, needless to say, were extremely uncomfortable.