One World Trade Center and the four other tallest buildings in America
The new One World Trade Center tower is taking over as New York City's tallest from the Empire State Building, which held the title before the construction of the first World Trade Center towers and since their destruction in the 9/11 attacks.
But it's not the country's tallest. To be sure, there is often disagreement about which building deserves that title amid shifting measuring standards, but experts are clear on one thing: these buildings epitomize the term, 'skyscraper.' Here are the five tallest buildings in the country.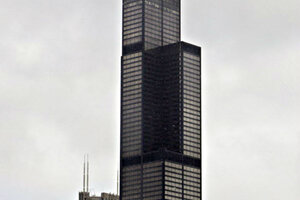 Charles Rex Arbogast/AP/File
1.

Willis Tower, Chicago

Topping the list of the tallest structures on the American horizon, the Willis Tower in Chicago stands at 1,451 feet high. Perhaps more famously known as the Sears Tower, the building was renamed in July 2009 after Willis Group, the global insurance broker, as an effort to underscore Chicago's increasing importance as a major financial and business center.

Completed in early 1973, the building held the record as the world's tallest structure for 25 years until the Petronas Towers in Kuala Lampur, Malaysia, were built in 1998. The building itself has 110 stories, 104 elevators and encloses approximately 3.8 million square feet.

While the Willis Tower is only the eighth tallest building in the world, it currently holds the record for the tallest building in the Western Hemisphere, which didn't stop French urban climber Alain "Spiderman" Robert, who in 1999 illegally scaled the building's glass and steel exterior wall, using only his bare hands and feet. According to Mr. Robert's accounts, a thick fog settled in near the end of his climb, making the last 20 floors of the building's exterior slippery.