A tropical storm in May? How unusual is Alberto?
Tropical storm Alberto is packing 40 m.p.h. winds while riding the warm waters of the Gulf Stream, but it should dissipate and perhaps end up as rain in New England. It's not the earliest tropical storm on record.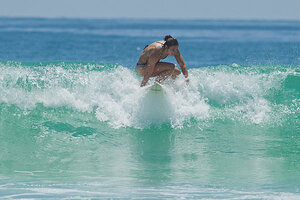 J Pat Carter/AP
Hurricane season does not officially start for another two weeks, but the nation's first named tropical storm of the season – Alberto – has already formed off the South Carolina coast.
While unusual, the situation is not unprecedented. Tropical storms have formed in the Atlantic as early as April and as late as December. Hurricane season is mainly just a guideline of when the best chances are for the development of powerful storms, meteorologists say. 
"If the right ingredients are in place – warm ocean waters and minimal wind shear – we can get tropical storm development," says Andy Mussoline, a meteorologist at AccuWeather.com, in State College, Pa. "And, that's what's happening."
Mr. Mussoline says Alberto, which is packing 40 miles per hour winds, formed over the Gulf Stream, which has a temperature of about 80 degrees – warm enough to generate a tropical storm. By later in the week, it will be running into colder waters and will dissipate. "The Gulf Stream is providing a highway for Alberto right now," he says.
Fortunately, that highway will keep Alberto offshore where it is mainly a threat to shipping and is likely to bring some heavy surf from northern Florida to the mid-Atlantic states. In its Monday analysis, the National Hurricane Center called for "moderate" rip tides along South Carolina and Georgia beaches.
The storm initially formed in the waters off South Carolina and then moved toward Georgia where it was Monday. But forecasters now expect it to start moving in a northeasterly direction. "There is an outside chance Alberto could come further west and bring some rain to New England later this week," says Mussoline.
This is not the first time a named storm has formed this early. According to the National Weather Service, there have been a variety of storms that formed in May – from Tropical Storm Arlene in 1981 to Tropical Storm Arthur in 2008. The earliest was subtropical storm Ana which formed on April 20, 2003. Subtropical storms form when closed low pressure systems develop off the coast but usually without the moisture of a hurricane.
Once Alberto moves northeast and dissipates, Mussoline says the computers don't indicate any systems that are a high risk for development. However, next week forecasters will be watching a broad area of low pressure in the western Caribbean. "We expect daily thunderstorms, but it's too soon to say if any will organize into a pocket of thunderstorms."
AccuWeather released its seasonal tropical storm forecast on April 28, calling for 12 named tropical storms, 5 hurricanes, and 2 major hurricanes which are Category 3 or higher. That would make it an "average" year for named storms. By contrast, in 2011, there were 19 named storms, 7 hurricanes, and 4 major hurricanes.
NOAA's Climate Prediction Center will release its forecast for the 2012 hurricane season on Thursday.