Romney set to announce running mate Saturday: Here's the short list
Mitt Romney's campaign has announced that he will reveal his running mate Saturday morning in Norfolk, Virginia. Until that happens, those outside Romney's inner circle will continue to speculate. In alphabetical order, here are the five most likely remaining options for the GOP presidential ticket: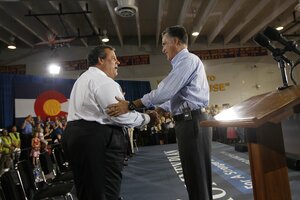 Charles Dharapak/AP
1.

Chris Christie

Assets: Popular first-term governor of New Jersey. Charismatic. Entertaining. Well-spoken advocate for fiscally prudent governance at the state level. Would be aggressive in attack dog role against the Obama-Biden ticket.

Negatives: Largeness of girth makes some people uncomfortable. Charisma could overshadow Romney. Tendency to dress down voters, while entertaining to some, could be offensive to others and wear thin over time. Only two and a half years in office. No Washington experience. No potential to put New Jersey in Romney's column.