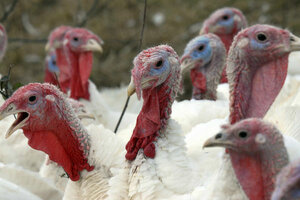 Craig Cunningham/Charleston Daily Mail/AP
46 million birds

That's the estimated number of turkeys raised this year in Minnesota, the top turkey-producing state in the country. In all, the US Department of Agriculture estimates, 254 million turkeys are being raised by US farmers this year, up 2 percent from 2011. A substantial share of them will show up on dining tables this week.

After Minnesota, the highest-producing states are North Carolina (36 million), Arkansas (29 million), Missouri (18 million), Virginia (17 million), and Indiana (17 million). The six states together account for about two-thirds of US turkeys.