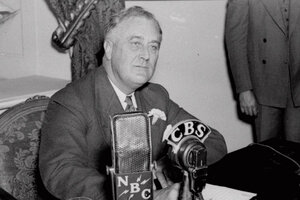 AP
2.

Franklin D. Roosevelt Library and Museum

Website: www.fdrlibrary.marist.edu/

Location: Hyde Park, N.Y. (also FDR's birthplace in 1882)

Opened: 1941

Attendance: 90,000

Admission: $14 (includes the Home of Franklin D. Roosevelt National Historic Site)

Bestselling gift shop biography: "FDR" by Jean Edward Smith

Hot-selling souvenir item: reproduction FDR campaign buttons

Lesser-known facts: FDR is credited with establishing the first presidential library as a way of making sure important history found in mountains of records about his administration were not lost to the public, but kept for researchers and average citizens to learn from and enjoy. The library is the only one used by a president while in office. Roosevelt used the library's study during trips to Hyde Park while serving his third and fourth terms, delivering several of his radio broadcast "fireside chat" from that location. FDR first sketched a drawing of for the library in 1937, and later sketched plans for a wing that would house first lady Eleanor's materials. The library has 50,000 books about their lives.