Scientists probe the dynamics of Texas 'earthquake country' (+video)
A series of cluster earthquakes rattled the Dallas area this week – the fourth such cluster in Texas since 2009. All have occurred in areas with sizable and growing fracking operations.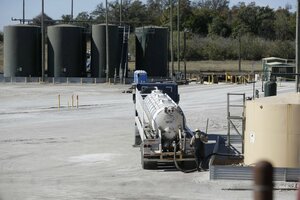 LM Otero/AP
Yet another in a series of cluster earthquakes rattled the Dallas area on Thursday, the size of which only intensified a subterranean quest to find out how parts of Texas have become "earthquake country."
The state has seen four separate earthquake clusters appear since 2009, two of them that overlay the Dallas metropolitan area, where last weeks' magnitude 4 quake was felt. Thursday's temblor was the 23rd since 2009 around a fault near Midlothian, Tex., and fifth in that cluster to exceed magnitude 3, which means it can be felt by people but causes minimal damage. Thursday's earthquake was felt miles from the epicenter, causing noticeable shaking of indoor objects.
The big quake only fueled lobbying in Austin for a proposed $2.6 million seismic monitoring program in order to inject more data into a growing discussion over the earth-rattling impact of America's unconventional energy production. A bigger question for Texas may be: How much earth-rattling is acceptable to keep Texas oil and gas flowing?
So far, the causes of the earthquake clusters aren't fully understood, but all of them have occurred in areas with sizable and growing fracking operations.
The US Geological Service has pinpointed the blame for increased quake activity in Texas, Oklahoma, and Colorado on the side effects of hydraulic fracking for oil, specifically the practice of pumping large amounts of chemically-laden wastewater deep into fault areas. Because of that pressurized water, federal geologists say, the earthquake risk in Texas has increased three-fold since 2008.
 What's not clear, federal geologists insist, is the extent to which fracking itself contributes to seismic unrest, or if it does at all.
 "The deep injection of the wastes is still the principal culprit," USGS researcher William Ellsworth, co-author of a new study from Southern Methodist University, told the AP last week. He added, however, that "the controversial method of hydraulic fracturing or fracking, even though that may be used in the drilling, is not physically causing the shakes."
Indeed, one culprit for the cluster quakes could be related to the domino effect. "[M]ovement on a fault … increase[s] the likelihood of additional earthquakes," SMU seismologist Heather DeShon said in a statement.
The Texas Railroad Commission, which oversees gas and oil production in the state, has reserved judgment about whether the wastewater from fracking is the real culprit. On Friday, the commission dispatched a team of inspectors to check the wastewater wells for damage. "We don't want to speculate on anything," Commissioner Ryan Sutton told the Dallas Morning News.
But the agency is hiring more seismologists and holding a major public hearing in early June to discuss the issue with researchers, oil and gas companies, and the public.
The earthquakes have been seized upon by anti-fracking activists, who claim the geologic murmurs are indicative of deep, lasting damage, including the potential of contaminated groundwater, caused by fracking. But so far, the earthquakes have been mild, many of them practically unnoticeable.
For those reasons and others, US Interior Secretary Sally Jewell has argued that banning the practice "is the wrong way to go."
"There is a lot of misinformation about fracking," Sec. Jewell told KQED radio, adding that "in many cases [people] don't understand the science behind it and I think there needs to be more science."
What's undisputable, however, is a new reality for Texans. They need to understand that "some parts of Texas are in earthquake country now," Mark Peterson, chief of the USGS National Seismic Hazard Modeling Project, told the Dallas Morning News.