Man who shot at George Zimmerman released on bond
Matthew Apperson has been released after his arrest for shooting into the truck of George Zimmerman, the man known for killing unarmed black teen Trayvon Martin in 2012.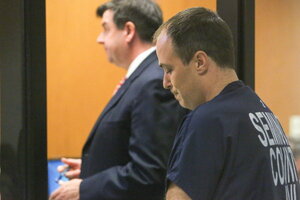 Joshua C. Cruey/Orlando Sentinel
A man who shot at George Zimmerman during a confrontation along a busy central Florida road has been ordered by a judge to turn in his weapons and avoid contact with Zimmerman.
Matthew Apperson made his first appearance before a judge Saturday. The Orlando Sentinel reports he was released on $35,000 bond after being charged Friday with aggravated assault with a deadly weapon, aggravated battery with a deadly weapon and firing a missile into an occupied conveyance.
Zimmerman's attorney said the former neighborhood watch volunteer was driving to a doctor's appointment Monday when Apperson intentionally fired his gun into Zimmerman's truck without provocation.
The passenger window of Zimmerman's pickup had a bullet hole in it, and Zimmerman suffered minor injuries from flying glass and debris.
Zimmerman and Apperson were involved in a road-rage episode last September.