Rowdy welcome expected for Pope at US seminary
'I'm not going to attempt in any way, shape or form to stifle their enthusiasm,' said Auxiliary Bishop Timothy Senior of St. Charles Borromeo Seminary, where Pope Francis will touch down Sept. 26.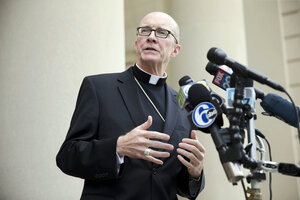 AP Photo/Matt Rourke, File
The last time a pope visited the St. Charles Borromeo Seminary just outside Philadelphia, he got a rousing, even rowdy, rock star welcome. "Viva! Viva Papa!" the seminarians shouted.
With the rector's blessings, expect more of the same when Pope Francis arrives in four weeks at the end of his first U.S. trip.
Back in 1979, then-Archbishop John Cardinal Krol was a known stickler for ceremony. So when St. John Paul II came to visit, the seminarians knew what was expected: Welcome the pope in a traditional manner — with a refrain from a Gregorian chant — and then listen to the speech. There would be prayer, quiet reflection, peace.
It started well, anyway.
In a video of the visit, the seminarians sing when John Paul arrives. But when they catch their first glimpse of him, clad head to toe in white, the song is drowned out by clapping, stomping, cheering and whistling, a welcome that would make even Mick Jagger jealous.
"We were supposed to behave ourselves," admitted the seminary's current rector, Auxiliary Bishop Timothy Senior, who on that evening was a 19-year-old seminarian.
Senior doesn't plan any edicts for Pope Francis' visit.
"I'm not going to attempt in any way, shape or form to stifle their enthusiasm," he said. "I want them to have the experience I had as a seminarian. Being in the presence of the pope made me want to give more to the service of God's people and the service of the church. It made me want to be holier, to be a better priest and a better person."
Francis arrives at the seminary on the morning of Sept. 26, his first day in Philadelphia. He'll be greeted on the front steps by the seminarians, who plan to serenade him. The next morning at the seminary chapel, he will address international bishops gathered for the Vatican-sponsored World Meeting of Families. The seminarians will also attend, and afterward they will take a group photo with the pope.
They will sing the "Domine" chant, an anthem unique to the seminary, three times to Francis. The timing can be spontaneous, church officials said.
"It's part of our tradition here," Senior said. "That's our version of 'For He's a Jolly Good Fellow.'"
The video of John Paul's visit provides a unique look inside a rarely seen world. Instead of seeming foreign and distant, it seems familiar: the young men excited to see a superstar, their usually stern teacher scolding them but with a smile. Current seminarian John Howarth, 29, said that's because even the ordained "are real guys."
"Priests don't just sit and say Mass every day. They order pizza. They drink beer," he said in a telephone interview after a weekend at the beach. "I didn't come out of the womb wearing a collar."
Howarth's friends and family have asked what he'll say to the pope if they meet. Howarth said he's more interested in listening to what Francis has to say.
"I hope his words will empower us and unite us," Howarth said. "Pope Francis' gift lies in reaching people the church may not have otherwise reached. He has that approachability and the world is falling in love with him."
In the 53-minute 1979 video, Krol also engages in some levity. He jokes about the quality of the seminary class, noting, "We have to do the best with what's available. This is the best." That line earns him groans.
Then Krol apologizes to John Paul "for the apparent undisciplined behavior of our seminarians." That line results in more clapping and cheers.
"I can remember feeling the building shake, the happiness and joy of seeing the Holy Father literally reverberated," said Sheila Longworth, a longtime seminary employee who watched from the choir loft. "It was electric. It absolutely consumed you."
Toward the end of the video, John Paul stands and grants the seminarians three days off from work. Some respond by shouting "free day!" in Polish. Then they sing the "Domine." The pope listens with his head slightly tilted, smiling.
As Senior noted, "We took the roof off with it."