Los Angeles threat: Too dangerous to ignore? (+video)
The Los Angeles Unified School District cancelled all classes on Tuesday following receipt of an electronic message threatening an attack on students.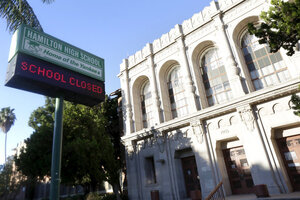 Jonathan Alcorn/Reuters
An amorphous, electronic threat to schools, coming amid high tensions, led to the unprecedented shutdown of the second-largest school district in the United States on Tuesday morning.
Threats to schools are not unusual, but the still-fresh memory of the Dec. 2 shooting in San Bernardino – just one hour's drive from Los Angeles – likely influenced the decision by Los Angeles Unified School Superintendent Ramon Cortines to treat the threat with complete seriousness.
"It was not to one school, two schools or three schools, it was many schools, not specifically identified, but there were many schools," Mr. Cortines said at a news conference, according to the Associated Press. "That's the reason that I took the action that I did."
The closure applies to 900 public schools and affects some 640,000 students. 
Schools in New York City received a similar message from someone claiming to be a jihadist, but officials concluded that the message was a hoax because of errors contained in the text, New York City Police Commissioner Bill Bratton told reporters at a press conference Tuesday. The commissioner insisted the students are safe during a press conference, dismissing the threat as not credible and saying the Los Angeles school district overreacted
In Los Angeles, school administrators asked the whole city to help with the safety check.
 "We need families and neighbors to work together with our schools and with our employees to make sure that our kids are safe throughout the day," the president of the Los Angeles Board of Education Steve Zimmer said, according to the AP. "We need employers to show the flexibility that a situation like this demands."
If the response was unusually large in scale, it reflected efforts by both law enforcement and schools to respond to threats that, in a climate of heightened fear, they feel they can't afford to downplay.
"I am not taking the chance of taking children any place into the building until I know it's safe," Cortines told reporters.
His abundance of caution is being reflected at schools across the country, as administrators would rather risk shutting down the campus over an idle threat than suffer the consequences of a serious one.
At an elementary school in New Jersey in early December, a group of fifth-graders who made written threats about their homemade, non-explosive bomb were investigated by police and sent home. Parents of the school's students were not only supportive of the police action over the idle plans, they wished they had been better informed.
"These days you can't over-react," Carlos Oliveros, whose grandson attends the school, told the Record. "You have to take everything serious."
The Los Angeles School District announced the closure early enough that most students had not yet arrived, but the school asked parents whose students had already been dropped off to bring proper ID and pick up their children as soon as possible.
In the meantime, law enforcement is searching every single school before students return to school.
This report contains material from the Associated Press and Reuters.