Study in America: Top 5 countries sending students to US
A record number of international students – 690,923 – attended colleges and universities in the United States during the 2009-10 academic year, according to the just-released "Open Doors" report. Which countries sent the most students? Here is a countdown of the top five places, using data from the Institute of International Education, which publishes this survey annually.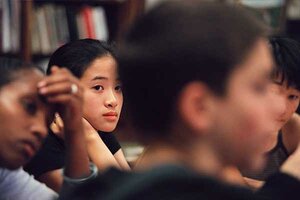 Melanie Stetson Freeman/Staff/File
5.

Taiwan

Taiwan, which was No. 6 in the survey for the 2008-09 academic year, moved up a notch in the new annual rankings. It sent nearly 27,000 students to America for 2009-10, which is actually a 4.9 percent decrease from the year before. In fact, its numbers have been declining pretty steadily since its peak in the 1993-94 school year, when nearly 38,000 students came from here. About 55 percent of Taiwan's students in the US are at the graduate level, and almost 25 percent are undergraduate students (with the remaining percentage in "other" categories).