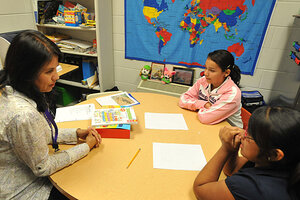 Ryan Moore/The Hattiesburg American/AP/file
Latinos are a bright spot

If there's one bright spot in the report, it's that Latino students are doing better. Latino/white gaps tend to be the ones narrowing the fastest, even though large gaps (ranging from 5 to 38 percentage points) persist in most states.

In eighth grade, every state in the country managed to narrow the gap, says Mr. Jennings. "That's hopeful, since Latinos are growing very fast as a segment of the population," he says.

Even there, though, the news isn't all good. In about one-third of the cases the report examined at the fourth-grade level, the mean score gap actually widened – mostly because white students improved their scores at a faster rate than Latino students.