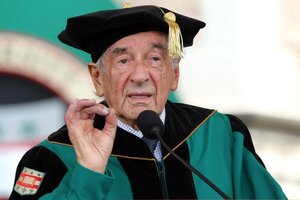 Bill Greenblatt/UPI
7.

Elie Wiesel, Nobel Peace Prize laureate, Washington University in St. Louis

The greatest commandment – to me – in the Bible is not the Ten Commandments. First of all, it's too difficult to observe. Second, we all pretend to observe them. My commandment is, "Thou shall not stand idly by." Which means when you witness an injustice, don't stand idly by. When you hear of a person or a group being persecuted, do not stand idly by. When there is something wrong in the community around you – or far away – do not stand idly by.

You must intervene. You must interfere. And that is actually the motto of human rights.... When you are now going into a world which is hounded, obsessed with so much violence, often so much despair – when you enter this world and you say the world is not good today, good! Correct it! That's what you have learned here for four years from your great teachers. Go there, and tell them what you remember. Tell them that the nobility of the human being cannot be denied.