No Child Left Behind waivers: five ways education will change
President Obama announced the first 10 states to receive waivers from certain aspects of the No Child Left Behind (NCLB) federal education law on Thursday. Many of these states are considered leaders in education reform for the 21st century. Here's a look at some ways they are pushing for progress through the flexibility granted by the waivers.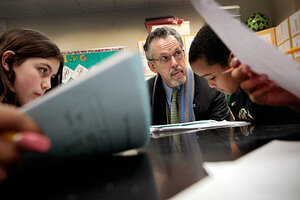 Peter Pereira/The Standard-Times/AP
1.

More subjects measured

Under NCLB, critics said, the focus on improving reading and math scores narrowed the curriculum, leaving less time for other subjects. One example of how a waiver would change this: Under Kentucky's assessment and accountability model approved through its waiver, schools must conduct a yearly program review to identify areas of growth or weakness in the subjects of arts and humanities, writing, and practical living/career studies. The state will also provide transparency on achievement gaps not just in reading and math, but also in end-of-course tests in science, social studies, and writing.