Life with big student debt: tales from four college graduates
The cost of a college education in the US has soared in the past decade, rising much faster than inflation. The result: More students everywhere are borrowing – so much so that cumulative student loan debt now tops $1 trillion, more than American consumers owe on credit cards.
Two-thirds of today's college graduates have debt, and many now have monthly payments of $700 or more. How do they swing it? Here are the student debt stories of four people who graduated within the past 15 years.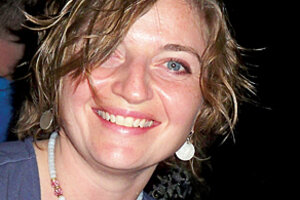 Courtesy of Jenny Hecht
1.

Jenny Hecht

Graduated from Colgate University in 1996 and University of Michigan School of Social Work in 1999

Amount owed: $75,000+

Job: intervention specialist for at-risk high school students.

When Jenny Hecht finished her graduate degree in social work, she had nearly $50,000 in student loans. She paid for college and graduate school herself, but most of the debt is for graduate school.

"The University of Michigan was rated the No. 1 school in the country at the time, and I made an investment," Ms. Hecht says. "I didn't know that once I had my [master's degree] nobody would care where it was from."

Hecht expects to pay back the loans, but wishes she were allowed to refinance, as people can with other loans: She's stuck at 8.5 percent interest.

With a family, and a job that pays less than $40,000 a year, her payments haven't kept up with the interest on her debt, and her original loan is now more than $75,000.

"I don't want to sound like a victim, because I chose this career," Hecht says. "We live a modest lifestyle. We're able to pay our bills and stay afloat, except that this student loan debt is hanging over our heads always."