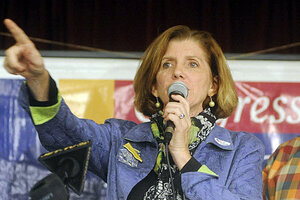 2.

Rep. Kathy Dahlkemper (D) of Pennsylvania

After one term in the House, Representative Dahlkemper was unseated by newcomer Mike Kelly, who won by more than 10 percentage points.

Dahlkemper overcame a significant gap in funds in a tight 2008 race to defeat seven-term congressman Phil English in Pennsylvania's Third District. (In that district, Barack Obama defeated John McCain by just 17 votes.) She defeated the House veteran just 51 percent to 49 percent – a narrow margin that she was not able to sustain in the Democrat-unfriendly 2010 election.