10 women in Congress who won't be back
The 2010 elections were tough on all Democrats, but particularly on female lawmakers. The upcoming 112th Congress may see fewer women in office on Capitol Hill than last session. Yet-to-decided races in the House and Senate will determine if that happens, but if it does, it would be the first time in 32 years that the number of women in Congress declines from one session to the next.
What's already clear is that 10 women are not returning. Most of the congresswomen defeated Tuesday were House freshmen. Two had served multiple House terms, and one was a Senate veteran. Some lost to tea party favorites and conservatives backed by Sarah Palin, while others were bested by standard-issue Republicans.
Here are the women, some familiar and some not, we will not see on Capitol Hill come January as a result of Election Day losses.
Source: CNN, National Journal' Almanac of American Politics, Politico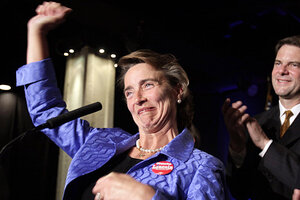 1.

Sen. Blanche Lincoln (D) of Arkansas

A two-term senator and former representative from Arkansas' First Congressional District, Lincoln won only 37 percent of the vote to GOP challenger John Boozman's 58 percent (with an estimated 88 percent of precincts reporting at time of writing).

Lincoln won her first two Senate elections with 55 percent (1998) and 56 percent (2004) of the vote. This time, she survived a primary challenge, surprising many. But she trailed Mr. Boozman throughout the campaign, and not even an appearance with former President (and former Arkansas Gov.) Bill Clinton could get her over the hurdle.