Election 101: Who is Gary Johnson?
Gary Johnson, who has already scaled Mt. Everest, has chosen the presidency as his next summit. The former New Mexico governor declared his candidacy on April 21 in New Hampshire. "America needs a 'President Veto' right now – someone who will say no to insane spending and stop the madness that has become Washington," he said in a statement.

A libertarian-leaning, tee-totaling triathlete often dubbed "the next Ron Paul," Mr. Johnson is a maverick whose liberal views on marijuana might smoke his White House bid.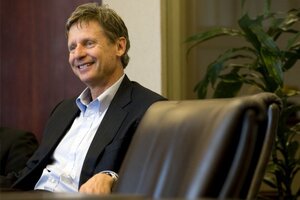 Joshua Sudock/o44/o44/ZUMA Press/Newscom
1.

Who is he, anyway?

Johnson's tenacity and determination have taken him far. As a student, Johnson worked as a handyman, leading him to start his own business, Big J Enterprises, which he grew into a multimillion-dollar plumbing corporation.

Johnson ran for governor of New Mexico on a low-tax, law-and-order platform. He won – twice – leaving his state with a $1 billion budget surplus and becoming the highest-ranking elected official in the US to advocate legalizing marijuana. Johnson is a Libertarian Party darling and an avid athlete who abstains from alcohol but talks openly about using marijuana.