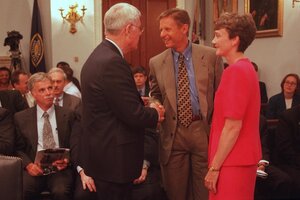 w85/w85/ZUMA Press/Newscom
2.

Why is he running?

"Because he's got things he wants to say and he doesn't think anybody else in the race is going to say them," says David Boaz, executive vice president of the libertarian Cato Institute in Washington, D.C.

As a candidate most analysts describe as a long shot at best, Johnson is running to bring attention to issues he deems important, adds Wes Benedict, executive director of the Libertarian National Committee.

"I wouldn't bet he has a chance to win the Republican nomination in 2012, but I think he has a chance to make a change in public policy," says Mr. Benedict.