How five websites are protesting SOPA
Five major websites will go dark on Wednesday protesting two Congressional bills, which critics argue could curtail Internet and free speech.
If passed, The Stop Online Piracy Act (SOPA) and its Senate counterpart, the Protect IP Act or PIPA, would allow the US government to seek a court order and even shut down websites that contain content or links to unauthorized copyrighted content. Moreover, advertisers and Internet service providers would be banned from doing business with transgressors.
Proponents of the legislation include companies that are trying to protect their copyrights, such as the Motion Picture Association of America, The NBA, Pfizer, Nike, L'Oreal, as well as the US Chamber of Commerce, the Fraternal Order of Police, and the US Conference of Mayors.
However, voices of opposition include Internet giants Google, Yahoo!, Facebook, Twitter, eBay, Mozilla, and Wikipedia – who say that the proposed laws constitute a First Amendment violation, promote censorship, and harm the democratic flow of information. Check out how five major websites plan to protest SOPA and PIPA: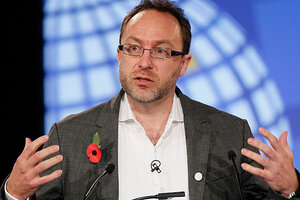 AP Photo/Kirsty Wigglesworth, file
1.

Wikipedia

The Wikimedia Foundation said that Wikipedia will shut down its English version for 24 hours, beginning at 12:01 a.m. EST on Wednesday, Jan. 18, in a protest move against the proposed SOPA and PIPA legislation.

Jimmy Wales, the Wikipedia founder, justified the blackout by saying that "This is an extraordinary action for our community to take - and while we regret having to prevent the world from having access to Wikipedia for even a second, we simply cannot ignore the fact that SOPA and PIPA endanger free speech both in the United States and abroad, and set a frightening precedent of Internet censorship for the world."