From Willie Horton to windsurfing: Five top political attack ads
Political attacks ads: Love 'em or hate 'em, but they're here to stay, and this election year stands to be a watershed moment in their use not only by the Romney and Obama campaigns, but also by the scores of "super PACs" that have sprouted like mushrooms across the political landscape. Here's a look at some of the most memorable and effective attack ads over the years – plus a bonus: how to defeat Abraham Lincoln.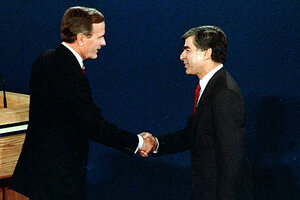 Dennis Cook/AP/File
1.

'Willie Horton' erases a double-digit lead

WHAT: "Revolving Door"

WHEN: 1988

WHO: Vice President George H.W. Bush (R) vs. Gov. Michael Dukakis (D) of Massachusetts

BACKGROUND: The ad, sponsored by the National Security PAC, a group informally allied with the Bush campaign, highlighted a Dukakis policy on prison furloughs for some criminals while he was governor of Massachusetts. The spot wiped out Dukakis's double-digit lead over Vice President Bush and gained lasting notoriety for its use of a racially inflammatory photograph of convicted murderer Willie Horton. Bush went on to win the race by a landslide.