Meg Whitman knew housekeeper might be illegal immigrant, according to lawyer
Meg Whitman told reporters that she fired her housekeeper last year when the woman informed Whitman she was in the country illegally. Now, Meg Whitman's former housekeeper has hired high-profile attorney Gloria Allred.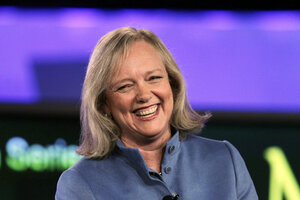 Marcio Jose Sanchez/AP
A former housekeeper for Meg Whitman claims the California GOP gubernatorial candidate was notified seven years ago that the worker might be in the country illegally, but did nothing about it.
The allegations came Wednesday from the woman's lawyer, Gloria Allred, a longtime Democratic supporter.
Allred says the housekeeper, Nicky Diaz, worked for Whitman from 2000 to 2009, when she was fired. The attorney claims Whitman received a letter from the Social Security Administration on April 22, 2003, saying the Social Security number provided by the housekeeper did not match the name on file.
Diaz said she saw the letter but said Whitman and her husband never asked about her immigration status.
Whitman told reporters Wednesday she never received the letter. She said she fired Diaz in June 2009 when the worker told her she was in the country illegally.