Meg Whitman and the perils of employing illegal help: six memorable cases
Meg Whitman, California GOP gubernatorial candidate, is alleged to have employed a housekeeper from 2000 to 2009 even though she knew the woman was in the US illegally. It's a political bombshell for Ms. Whitman. The politics of household employment and immigration have proved tricky before. Here are six prominent cases, plus the allegations against Whitman.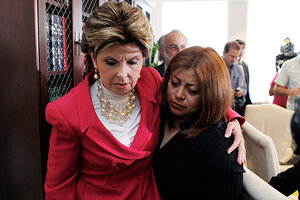 Reed Saxon/AP
1.

Meg Whitman

Does Meg Whitman have a household help problem? Perhaps. A former housekeeper, Nicky Diaz, has said she was in the US illegally while she was working for Ms. Whitman. Ms. Diaz also alleges that Whitman was told years ago by the federal government that she might be an illegal immigrant – but that Whitman did nothing about this notification.

Whitman has strenuously denied the allegation, and said she received no such letter from the US. She fired Diaz when she found out her immigration status, she says.

Whether this will hurt Whitman in her gubernatorial contest remains to be seen.