Can Republicans increase their ranks of governors? Four races to watch.
With only 11 races for governor this year, there's no big sea change to anticipate. Republicans hope to add to the 29 states under their banner, but analysts say they are unlikely to gain enough to top the record 34 states the party held back in the early 1920s, when there were only 48 states.
Utah, North Dakota, and Indiana are widely expected to stay under GOP control; Vermont and Delaware, Democratic. Missouri and West Virginia have closer races but lean toward remaining Democratic, analysts say. The remaining four races, all in states with Democratic governors, are the ones to watch: Washington, New Hampshire, and Montana, which are "too close to call," and North Carolina, which is poised to make a historic shift to Republican control.
Material from the Associated Press was used in this report.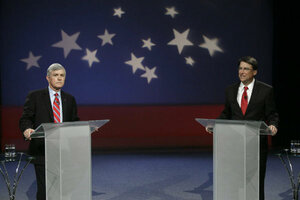 Gerry Broome/AP
1.

North Carolina

North Carolina tended to vote Republican in presidential elections for decades until Barack Obama turned it into a swing state in 2008, but Democrats have held the governor's office for the past 20 years.

"If you are looking at states that are the biggest prizes in terms of governorships this year, North Carolina has to be at top of that list," says Mike Schrimpf, a spokesman for the Republican Governors Association.

Former Charlotte Mayor Pat McCrory, the Republican candidate, leads in the polls by about 10 percentage points over Lt. Gov. Walter Dalton, a Democrat.

Mr. Dalton had a competitive primary after the unpopular Gov. Beverly Perdue decided not to seek reelection. He has had a hard time keeping up with the fund-raising and building the name recognition that Mr. McCrory enjoys, having already run for governor in 2008.

McCrory's "really selling himself as a pragmatic can-do problem solver … [with] no hard ideological edges," says Andrew Taylor, a political science professor at North Carolina State University in Raleigh.

Dalton is trying to make the case that the Republican-held legislature needs to be stopped from making more cuts to important areas such as education. He also put out a plan this week to prohibit sex-based wage discrimination, seek tougher penalties for domestic violence, and offer paid maternity and paternity leave to teachers and state workers.

If McCrory wins and the legislature stays Republican, as it probably will, it will be the first unified Republican government in the state in a century, Professor Taylor says.

Even if President Obama pulls off a narrow victory, it likely won't be enough to tilt things in Dalton's favor, he and others say.

Voting started in North Carolina Oct. 18.