Election 101: Nine facts about Mitt Romney and his White House bid
Mitt Romney, who declared his candidacy June 2 in New Hampshire, has been groomed to run for president. He has the look and the political lineage. He's been a governor, the quintessential training ground. And he's essentially never stopped running since he conceded his first White House bid three years ago.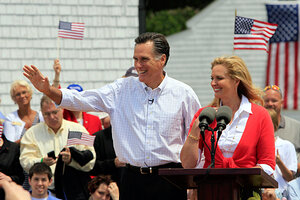 Jim Cole/AP
1.

Why is Romney running?

Romney is driven to find solutions to intractable challenges, some say. "He's ambitious and believes in his ability to solve big problems," says Doug Gross, state chairman of Romney's 2008 campaign in Iowa.

The big problem Romney is talking about: America's precarious economy. He wants to provide the foundation for securing good jobs so America can compete globally. This includes encouraging entrepreneurialism with "lower taxes on employment" and "immediate write-off for capital expenditures," as he writes in his book, "No Apology: Believe in America."

Then, there's the timing factor. Because the pre-primary frontrunner generally turns out to be the Republican nominee, Romney's 2008 campaign provided a solid launch for his 2012 bid, analysts say. John McCain, Ronald Reagan, and George H.W. Bush all ran once before they became the nominee

For Romney, the quest for the presidency seems to run in the family, says John Pitney, professor of politics at Claremont McKenna College in Claremont, Calif. Romney's father, George, former CEO of American Motor Corp., ran for the GOP nomination in 1968 and lost.

"It could be redeeming his father's name. He worshipped his dad," says Mr. Gross.