Election 101: Ten facts about Michele Bachmann and her presidential bid
With her announcement Monday that she is entering the presidential race, Michele Bachmann has given the tea party a candidate to call its own. Her conservative views and flame-throwing style have already attracted tangible support from evangelicals and the anti-Washington crowd. But is she capable of running a campaign that can withstand the rigors and scrutiny of the presidential process?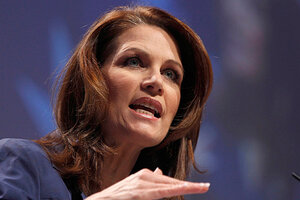 Larry Downing/REUTERS/File
1.

How will she position herself?

She'll claim the mantle of the true conservative in the race.

"She's the real deal," says Larry Jacobs, a political science professor at the University of Minnesota.

The founder and chairwoman of the House Tea Party Caucus, the Minnesota congresswoman earns a "perfect" rating from the American Conservative Union for consistently voting in line with small-government, antitax, socially conservative ideals.

These aren't just poll-tested positions for Ms. Bachmann. Long before entering politics, she was an activist who protested outside abortion clinics and tried to repeal a statewide educational curriculum.

She also has a compelling rags-to-riches personal story. Raised by her mother, Bachmann (named "Miss Congeniality" in her hometown Miss Anoka pageant) earned a law degree from Oral Roberts University and a degree in tax law from the College of William and Mary. She worked as an attorney for the IRS for five years, and then quit to be a stay-at-home mom.