Super Tuesday 101: Who's ahead where
Ten states are holding presidential primaries or caucuses on Super Tuesday – and many Republicans are hoping the results begin to bring an unusually volatile primary season to a close.
It's doubtful, however, that the results will actually provide any finality. Expect all four remaining candidates to get at least some of the 437 delegates at stake – and, therefore, to continue in the race.
Here's what to look for Tuesday night, state by state: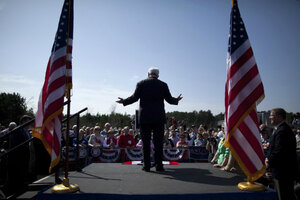 AP Photo/Evan Vucci, File
1.

Georgia, 76 delegates

Of the Super Tuesday states, Georgia has the most delegates at stake. It's also the one state that Newt Gingrich seems likely to win.

Georgia is Mr. Gingrich's home state, and the former House speaker has doubled down there, hoping for a strong showing.

Right now, polls show Gingrich getting almost 45 percent of the vote, compared with about 25 percent for Mr. Romney and just under 20 percent for Rick Santorum.

Still, those results could still be good news for Romney. Not only would he emerge from Georgia with a number of delegates (like most of the Super Tuesday states, its delegates are awarded proportionally), but a solid win would give Gingrich the rationale he needs to stay in the race. Santorum's best odds against Romney involve him consolidating the conservative, anti-Romney vote in a head-to-head matchup; with Gingrich still in the race, it's hard to imagine him getting the support he needs.