Super Tuesday: Six things to watch for as results come in
Ten states are voting on Super Tuesday, with 419 delegates at stake. So far, it looks as if it may be a good night for Mitt Romney, but there are many unknowns. Aside from the biggest question – who wins Ohio – here are six things to watch for as the results come in Tuesday night.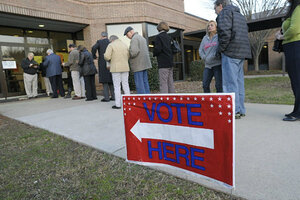 AP Photo/John Amis
1.

Watch for who wins the caucus states

Results in Idaho, North Dakota, and Alaska, where there is no polling and some odd rules, are among the toughest to predict. Given Idaho's large Mormon population, Mitt Romney is the heavy favorite in that state (and Ron Paul may suffer since voters' second-choice candidates are taken into account, and much of Mr. Paul's support is all-or-nothing).

Paul tends to do best in caucus states, and he is the only candidate to have campaigned in person in Alaska. His libertarian message may also resonate with voters there. He has a chance at winning the state – or at least taking a number of the delegates available – while Mr. Romney should get votes from Alaska's more moderate voters and Rick Santorum from the evangelical Christian voting population.

North Dakota is a toss-up, with Paul, Santorum, and Romney all having a pretty equal shot – and perhaps divvying up the delegates among themselves.