GOP convention: Who is the mystery speaker Thursday night?
There's an enticing blank on the Republican convention speakers' schedule for Thursday night, right after the Olympic athletes and before Florida Sen. Marco Rubio: "To Be Announced." Speculation is fierce among the vast press corps here in Tampa, Fla., as to who (or what) it might be.
Here's our Top 5 list: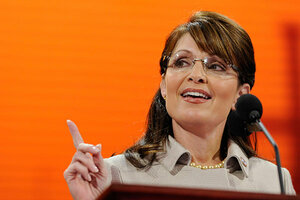 Susan Walsh/AP/File
1.

Sarah Palin

An appearance by the reigning queen of the tea party would ignite the arena like no other Republican. To tea partyers, ever eager to hear her message of small government constitutional conservatism, her exclusion from the convention feels like a snub by the GOP establishment.

And as we learned four years ago, when then-Governor Palin emerged as the dark-horse selection as John McCain's running mate, she can knock it out of the park with a friendly crowd and a well-crafted speech.

But there's a potential downside to having Palin speak on Mitt Romney's big night: She could turn off the independent and swing voters he needs to capture to win in November.