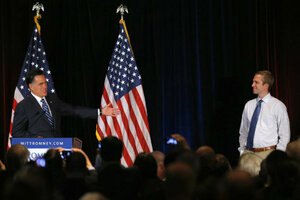 Brian Snyder/Reuters/File
2.

Ben Romney

Of the brothers, Ben spends the least amount of time on the campaign trail, but his few appearances mirror what his brother Matt described as "offering perspective" on Mitt Romney as a regular guy. Growing up in a family with five boys, he says that included yard work on Saturdays.

"Pretty much, every week without fail, we were out in the yard doing some sort of project," Ben Romney told Florida delegates during the Republican National Convention. "Whether it was moving rocks from this side of the yard to that side of the yard, and the next week moving them from this side of the yard back to that side of the yard. There was always something to do and he wanted us to learn the value of hard work, because it had been ingrained in him by his father."

Ben stands out from his brothers in a few ways: He's the only Romney brother with blond hair and the only one who didn't pursue a career in business or real estate. His brothers described him, in a New York Times interview, as quiet and focused.

When all five Romney brothers appeared on the late-night comedy program "Conan," Ben joked, "Conan, as you can probably tell, I really love the limelight."

He is currently a third-year resident in the radiology department at the University of Utah School of Medicine (which is perhaps the main reason he spends less time campaigning than his brothers). He went to medical school at Tufts University in Medford, Mass., and graduated from Brigham Young University in 2003 with a bachelor's degree in management. He and his wife, Andelyne, live in Salt Lake City with their three-year-old daughter.