Bitter Mississippi Republican primary not quite over after all
Tea party challenger Chris McDaniel and his supporters are refusing to acknowledge that they lost a Mississippi Republican primary runoff to Sen. Thad Cochran, meaning an already-weird race is getting weirder by the day.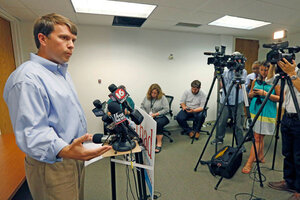 Rogelio V. Solis/AP
Mississippi's epic Republican Senate primary isn't truly over after all – and may wind up in court.
Tea party state Sen. Chris McDaniel claims that US Sen. Thad Cochran stole the June 24 runoff vote, by encouraging Democrats to vote illegally.  The McDaniel campaign says it will soon have amassed enough evidence of "illegal votes" to overcome Senator Cochran's roughly 6,800-vote margin of victory. And it is raising cash to mount a legal challenge.
"Last week's runoff election was a sham, plain and simple," Mr. McDaniel said in a July 2 fundraising e-mail to supporters.
Outside groups are also getting into the act. On Tuesday, the Texas-based group True the Vote filed a lawsuit in federal court with 12 Mississippi voters asking for an injunction to prevent certification of the result on July 7. Washington-based FreedomWorks is also encouraging legal intervention.
The Cochran campaign says it, too, is considering its legal options. 
It also denies any wrong-doing in reaching out to Democrats, many of them African-American, to vote in the runoff – and in fact, touts the outreach as party-building. Under Mississippi's open primary system, any eligible voter of any political persuasion could cast a ballot in the Republican runoff as long as he or she hadn't voted in the Democratic primary.
Volunteers for the McDaniel campaign have been checking the poll books in precincts across the state and finding people who voted illegally in the runoff – thousands of them, the McDaniel campaign says.
Nonsense, says the Cochran campaign.
"The time has come now for the McDaniel campaign to put up or shut up," said Austin Barbour, a senior adviser to the Cochran campaign, at a press conference Wednesday in the state capital, Jackson. "If they've got hard evidence, bring it forward, but quit talking about exaggerated numbers that they know are not true and we know are not true."
Mr. Barbour acknowledged "a small number of clerical errors that were made by poll workers," but nowhere near the numbers needed by McDaniel to flip the result of the runoff. The McDaniel camp's claims are "baseless," Barbour said.
In one precinct, McDaniel volunteers claimed 190 illegal crossover votes in the Republican runoff – but only 25 people had voted in the Democratic primary, he said. In another, McDaniel people took issue with 130 votes in the runoff, despite only 35 votes having been cast in the Democratic primary.
McDaniel advocates also allege that the Cochran campaign paid African-Americans to vote for the senator, who is running for his seventh term. Not true, says the Cochran campaign.
The Cochran campaign and a pro-Cochran outside group, Mississippi Conservatives PAC, both paid people to take part in the final voter turnout push – including walking neighborhoods and encouraging voters to go to the polls, but not to hand out cash in exchange for votes, say officials from both groups.
Since the runoff concluded and McDaniel refused to concede, the swirl of allegations has been almost nonstop. Activist blogger Charles Johnson has been a particular thorn in the Cochran campaign's side. In one post, he claimed black minister Stevie Fielder was offering voters in Meridian, Miss., $15 each to vote for Cochran. Jordan Russell, spokesman for Cochran, called the allegation "baseless and false."
On Wednesday, after the press conference for local media in Jackson, the Cochran campaign tried to have a conference call for out-of-town media, but it went off the rails. The call was effectively hijacked by a pro-McDaniel caller who kept interrupting with provocative questions about "harvesting cotton" and "harvesting the votes of black people." Barbour gave up, told reporters to call him on his cellphone, and ended the call.
"Just had a quick shower after attending that Twilight Zone of a conference call," wrote the Crawdaddy blogger at SunHerald.com, the Mississippi Gulf Coast news site.
Soon it came out that Mr. Johnson had tweeted the phone number for the call to his 6,000 followers and encouraged them to crash it.
"The plus side of that episode is now the national media sees what type of people we have to deal with day to day," tweeted Mr. Russell, Cochran's spokesman.
In short, the circus that is the Mississippi Republican Senate primary lives on. In May, there were the arrests around the photographing of Cochran's bedridden wife in her nursing home.
Before that, there were the racy and provocative comments by McDaniel on his old radio show that were leaked to the media.
Last Friday, the saga took a tragic turn when a leading Mississippi tea party activist – one of the four men arrested over the nursing home incident – committed suicide.
Saturday night, the chairman of the Hinds County GOP, a key Cochran supporter, was arrested and charged with driving under the influence.
Now it's clear the 2014 election cycle's wildest primary is far from over. And a full-fledged civil war is raging in Mississippi's Republican Party.