Obama and Calderón agree: Arizona immigration law is wrong
President Obama tells Mexican President Felipe Calderón he opposes the Arizona immigration law and will seek comprehensive immigration reform. But he acknowledges that he'll need some Republican votes in Congress to succeed.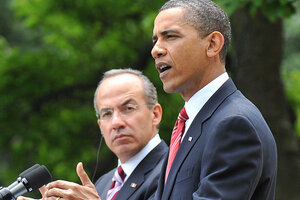 Newscom
President Obama pledged to Mexican President Felipe Calderón Wednesday to seek "comprehensive immigration reform" to stem what he called the "frustration" that has led to measures like Arizona's controversial anti-illegal immigration law.
But turning domestic, Mr. Obama said he could not accomplish that goal with the help of his own party alone, and he called on Republicans to join in fixing what he called "our broken immigration system."
Saying "I need some help to get it done," the president noted that he does not have 60 Democratic votes in the Senate and added, "I have to get some support from the Republicans."
IN PICTURES: The US/Mexico border
Immigration has been at the heart of US-Mexico relations for decades, and so it was Wednesday as Obama received Mr. Calderón for a state visit. Calderón set the tone by declaring as of his morning arrival at the White House that "despite their enormous contributions" to the US, millions of immigrants "live in the shadows and, at times, as in Arizona, confront patterns of discrimination."
Asked at a noon press conference if he agrees with Calderón that the Arizona law is "discriminatory," Obama said "the Arizona law has the potential of being applied in a discriminatory fashion."
The new law directs police in the state to check the immigration status of anyone they've stopped who they suspect of being in the country illegally.
Racial profiling in Arizona?
Obama noted that the Arizona legislature has already amended the law to stipulate that it should not be applied in a discriminatory fashion, but he said it still leaves open the possibility of individuals suspected of being illegal immigrants "being harassed and arrested."
The US president said he has directed the Justice Department to determine the Arizona law's legality, but he added that the only solution to illegal immigration is immigration reform. He said those in the country illegally should have a path to legal status, but one that would include paying a fine for the illegal residence, paying all back taxes, and "learning to speak English."
In addressing the press, Calderón agreed with Obama that the issues confronting the US-Mexico relationship including immigration must be addressed with "co-responsibility." But he stopped short of promising measures to block the movement of Mexicans north – no Mexican president ever would, since the Mexican constitution guarantees a right of movement – but he did commit to redoubling economic development efforts to afford Mexicans a prosperous life in their communities.
Obama made little mention of the brutal drug war raging south of the border – and which Calderón touched off upon taking office three years ago by declaring war on the drug cartels that were operating with increasing impunity. But he hailed Calderón as "a leader who is guiding his country through very difficult times with vision and courage," and he pledged expanded US support in the fight.
As drugs flow north, guns go south
Addressing an issue of particular frustration to Mexico – the flow of high-powered illegal weapons south into the hands of the cartel leaders' thugs – Obama said that US law enforcement agents are now inspecting "at considerable expense" 100 percent of rail cargos moving south across the border. More action is being taken against illegal arms dealers, he asserted.
Calderón and his wife, Margarita Zavala, will be honored at a White House state dinner Wednesday, and on Thursday the Mexican leader addresses a joint session of Congress.
At the White House, Calderón said he brought with him the "respectful and affectionate" greetings of the Mexican people, and he lauded the "open and frank" dialogue the two neighboring countries have.
That message will carry over to the congressional address, when Calderón is expected to frankly address the Mexican perspective of the immigration issue and to offer a reminder that the drug trade afflicting Mexico is largely aimed at a market north of the border.
IN PICTURES: The US/Mexico border
Related:
US-Mexico tensions darken visit of President Felipe Calderón
Mexico issues sharp rebuttal to Arizona immigration law
Mexico killings: President Calderón visits Juarez to tout new social programs